If we were mountaineers preparing for a major climb we would say that this has been an extended, and somewhat relaxed, approach march as we left Seattle almost a week ago and yet we only join our cruise boat tomorrow. This slow travel to Ushuaia is partly a realization a few months back that our bodies no longer handle long days and nights of flying without the need for a rest, and partly a result of airline pricing policy. We are going to spend 3+ weeks in Lima after this cruise and we did not want to string together a number of one-way airline tickets. Hence we settled for a SEATAC-Lima return followed by a Lima-Ushuaia return. Thus we took the opportunity to break our southward journey for a few days in Lima and catch up with our son and his wife; who you might recall from previous posts live in the seaside suburb of Miraflores. We spent a couple of pleasant warm days there staying at Hotel Antigua a nice boutique hotel a few blocks from the Miraflores escapement.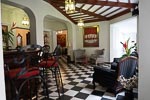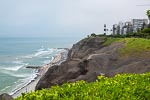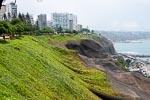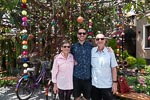 We arrived in Ushuaia on the 15th after an overnight flight from Lima to Buenas Aires followed by a domestic connection to Ushuaia. That timing gave us a couple of days to recuperate and re-acquaint ourselves with this southern city.
Climate wise Ushuaia is very much inline with what we left behind in the Pacific Northwest, cloud, some rain and temperatures 5-10°C (40-50°F) - even though Ushuaia is at the start of summer and PNW is entering winter.
If you take a look at a map you will see that Ushuaia sits at the end of a long fiord, the Beagle Channel, and is surrounded by modest mountains which are still displaying some of their winter snow and there are a number of glaciers within a moderate walk of the township. It is quite a large town, clearly a major port, and a major tourist destination with lots of people dressed in adventure clothing walking around the downtown area.
Our cruise ship has not yet appeared in the port and we are assuming it will not appear until tomorrow morning. We are more than a little curious to see how long it takes a ship designed for 100-140 passengers to unload, load and provision. We will let you know.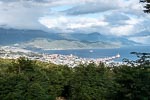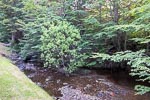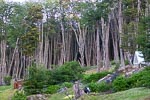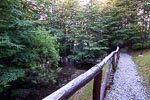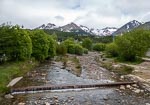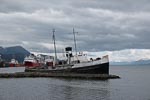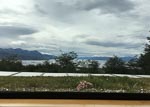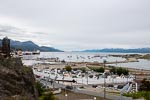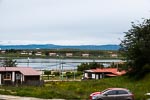 We are staying at Hotel Las Hayas, which like many hotels in this town are up the hill to the west of the town; it is the hotel used by the cruise company for guests at the start and end of the cruise.