It was raining gently this morning as I pulled up to the gas pump to fill up for what I hoped would be a long day to Inuvik. I did not know it at the time but the guy that pumped the gas was prophetic as he said "you should not be going north in this weather". Yesterday was my introduction to gravel, today it was an introduction to mud. The first few miles were very tentative but within an hour the rain eased a bit and by the time I got to the rest area and monument for the Arctic Circle (25 miles from Eagle Plains) I was beginning to get hopeful.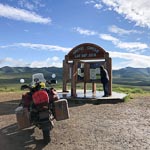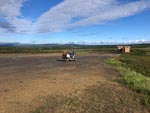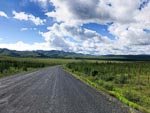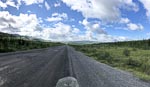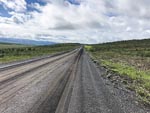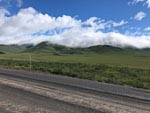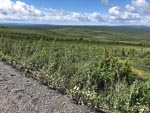 At about 40 miles from Eagle Plains the road had increasingly large sections of a thick black soil that I am told is treated with Calcium Chloride to help bind it together. But unfortunately one of the side effects is that it is very slippery in wet weather. One of these sections got the better of me. After a series of slippy-slide almost falls the bike went out from under me and I was standing on the road and the bike was laying in the mud.
I tried a couple of times to lift it back up but each time my feet slipped on the muddy road surface just as I was about to get the bike into a balanced position. Fortunately a helpful Dutch tourist and his family happened by in a rental camper and 4x4 pickup. With his help the bike was quickly upright and ready to go. Interestingly the fall had turned the bike around facing south; I took that as a sign that the bike had reached the conclusion that we should return to Eagle Plains.
I was, of course, disappointed particularly since I did not even get to Inuvik. But in the days leading up to this effort I have talked to a number of motorcyclists and it seems that some through good luck with weather and good riding skills got to Tuktoyaktuk and others through bad luck with weather did not even get to the Arctic Circle monument. I heard from someone today that there have been 31 motorcycle accidents on the Dempster this year and in a couple of cases the injuries were serious enough to require medical evacuation.
So I am content enough with my effort and pleased not to be injured.
Another night at Eagle Plains. I should point out that the young lady serving in the bar is also on a working holiday but she is from the Czech Republic.