Our flight from Glasgow to Halifax on May 31st turned out to be a long drawn out affair. Initially scheduled as an early-ish flight at 9:30 am we did not actually get into the air until 3:30pm, so by the time we finally got to Halifax we were more than a little zombie like and hence we did not focus on anything except finding some food at a restaurant close to our AirBnB and sleep.
Next morning after examining the instructions from Seabridge on what was required to pickup our vehicle it became obvious that we should have hired a car at the airport and contributed the C$70 taxi fare towards a car hire. Fortunately there was an Enterprises Car Rental office within easy walking distance of our accommodation so by 8:00am June 1st we had solved that problem. The cost of hiring a car for two days was C$75.
According to Seabridge instructions the process for getting the truck from the port involved three steps.
Call at the shipping agents office and pay their fee and any port related fees. As it turned out this office was in the town of Dartmouth and across the harbor from Halifax and quite some distance away. Thus we were thankful for the car.

In all port and associated fees came to C$650 approximately.

We learned that the vessel carrying our truck had already done some unloading at "pier 31" but was now at "Autoport" where unloading was underway and where our truck would be unloaded, and that our truck would not be available until tomorrow. Bummer!

Bt at least we had the bill of lading so we could move on to the next step.

Which was Canadian customs. This office was back in Halifax, so again the car was handy.

At the customs office we made the mistake of telling them that we had a small quantity of packaged food in the truck and that led to 10 minutes of interrogation. But in the end we got out of there without a hold and search being placed on the truck. Note for future reference - NO FOOD.

After customs we decided to call at "Autoport" to see if we could get a more accurate ETA for our truck. Autoport just happened to be back across the harbor to Dartmouth. As we approached the Autoport building we could see "our" vessel and we could see cars and small vans being driven off and parked in a huge lot.

At the office we were told that there were 1800 vehicles to be unloaded and that unloading would not be compete until tomorrow early afternoon. They took our details and told us to phone them before returning so as not to waste a trip.
Thus ended day one of the get our truck back process.
Day 2 of get our truck back took a turn for the better about 9:30am when we got an email from the shipping agent (yesterdays first call) telling us that our vehicle was actually already unloaded and was available at Pier 31 and gave us the contact phone number of someone at that location.
As it happened that location was on the Halifax side of the harbor and only a few miles from where we were staying. So a short drive took us to the appropriate security gate where we were checked in and within a few minutes we had the truck and were driving back to our accommodation.
At Pier 31 we noted a number of European motorhomes apparently waiting for pickup. Seems like the entire "Autoport" story was a misunderstanding and that all motorhomes and other special vehicles unloaded at 31.
We spent the afternoon repacking the truck ready for an early start Sat 2nd June.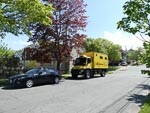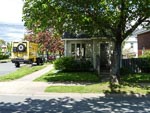 Just a few words about our AirBnB accommodation. We were staying in a small cottage in the North end of Halifax, quite a cute little place. Our host Robert was very accommodating and had provided a range of consumables such as bread, milk, fruit, coffee so that we were quite at home and comfortable and well supplied.
If you are ever in Halifax and need accommodation look North End gem on AirBnB.