A more pleasant day still some wind but not so hot, and sunny rather than gray. This generally put us in a better mood and a nice campground early in the afternoon gave me the opportunity to work on a problem with the truck.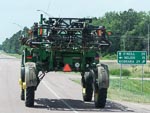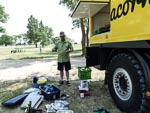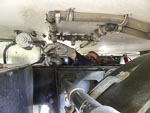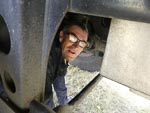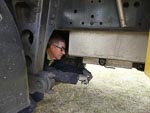 Towards the end of our recent European travels I noticed that the transfer pump that is supposed to pump fuel from our #2 tank into our #1 tank was not working (or at least seemed to be not working). Well this afternoon in the relative comfort of our camping spot in Atkinson I decided to examine the problem and attempt a fix.
During our travels today I bought a 20ft length of fuel hose and combined with a spare fuel pump I have been carrying for the past 4 years (just for this purpose) I was able to confirm that the problem was not the connections to either of the tanks and hence was almost certainly the pump. With that diagnosis in hand I set about installing the spare pump and running the new fuel line. By the end of the afternoon we had a functioning transfer pump.
We camped at Mill Race Park in the town of Atkinson NB. A nice park right next to the golf course on the western side of town. Water, electricity and pit toilets. Even had its own storm shelter in case a Tornado wandered by.
Over the past few day we have seen al kinds of farming equipment driving down the highways. I included the photo of this one because I like its "spider like" appearance.