Today my route took me West along Highway 16 a somewhat less busy road than Highway 97 of the previous couple of days. The weather continued generally fine but with a strong buffeting wind that made riding a little less pleasant than normal.
Again today I could not help but notice that the forest (in some ways the never ending forest) is made up of patches of evergreens and deciduous trees and from a distance this makes an interesting pattern. I tried a number of times to photograph this effect but fear I failed. Today the evergreens are increasingly dark spruce trees whereas the previous days they looked like some type of pine.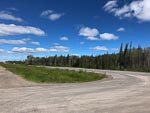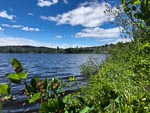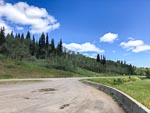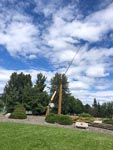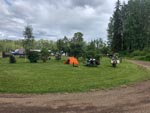 Approaching the town of Smithers, my destination for the day, mountains became more prominent replacing the rolling hills of the previous days.
Tonights camp was Smithers Municipal Riverside Campground on the banks of the Bulkley (???) River. There were 9 other bikers in the camp tonight. Mostly still heading north.