Heading North this morning from Bell 2 was more of the mountains, forests, good lonely road of yesterday. Though a little spice was added by patchy rain showers that sometimes were quite heavy. The rain slowed me down some what as I am still a bit of a novice to this motorcycle stuff and I don't want to misjudge a corner in the wet. Late morning, some what before Dease Lake I called into Tatogga Lake Resort a campground and restaurant housed in a quaint log building where I had breakfast (or as it is becoming the days main meal).
The stay at Tatogga lasted much longer than I had expected. They had good internet so I had a conversation with Nina and did a little bit of internet business. But mostly, and surprisingly I got talking to another customer (a salesman who covers this region for a German industrial company) about traveling in South America - seems he and his wife had done some motorcycle travel in that part of the world.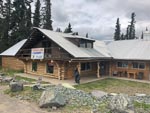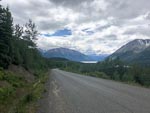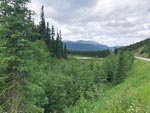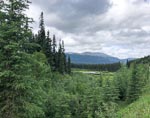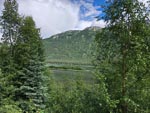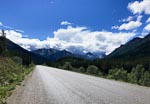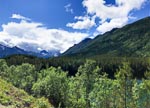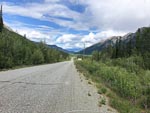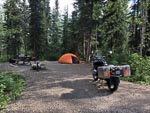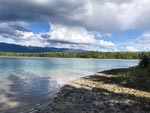 After leaving Tatogga I eventually stopped at Dease Lake for fuel and was very happy that I had not delayed my breakfast in anticipation of Dease Lake. I found it a not very appealing place.
The sun emerged for most of the afternoon which made riding a little more pleasant and I got my first bear sighting of the trip. Though I quickly discovered that motorcycle travel is not good for photographing animals as it takes way too long to stop, remove gloves, find the camera/phone. By the time that was all done the bear was long gone.
After what for me is a long day of riding, around 250 miles, I pulled into Boya Lake Provincial Park about 70 miles south of the Alcan Highway Intersection. A pleasant campground that quickly filled up during the later part of the afternoon.