I dithered about in Whitehorse a bit this morning before getting underway. I had to buy one of those red plastic fuel containers and then figure out how to attach it to the bike. I had expected to get a 2 gallon container but of course I should have realized all containers here would be metric so the choice was 5 liters (1.25 gals) or 10 liters (2.5 gals). After way too much deliberation I went with the 10 liter variety. Strapping it to the bike required a set of 4 lime green tie-down straps 3 of which were surplus to requirements; thus my load of unnecessary items is increased.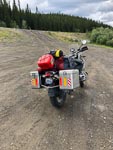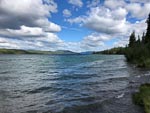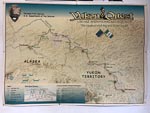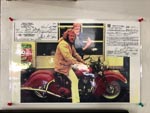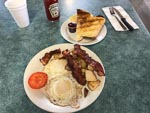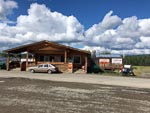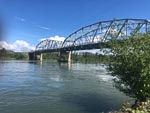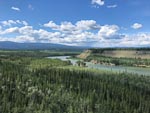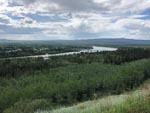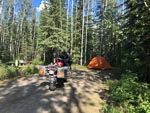 Late morning I stopped at a place called Braeburn Lodge for breakfast. The place happens to be the first checkpoint for the Yukon Quest (a dog sledge race from Whitehorse to Fairbanks) and had quite a nice display of various items related to the race. Breakfast was the usual gargantuan affair, a meal that I would never consider preparing or eating at home, but breakfast is becoming my main and sometimes only meal. The young lady that served breakfast was an Australian on a working holiday. I forgot to mention that the lady that served me at Tatogga Lodge was also a working holiday Australian.
The guy pictured on the red motorcycle is Steve McQueen.
Good weather, good road, little traffic made for a great days riding. The highlights of the day were the rivers, the Yukon River at Carmack, the Pelly Pelly at Pelly Crossing and the Stewart at (you guessed it) Stewart Crossing.
I stopped for the night at a Yukon Territorial Camping ground at Moose Creek. It turned out to be mosquito infested and after a quick dinner of "cup-of-soup" I got into the tent and stayed there until morning.