I spent a little time in the downtown area of Dawson City this morning, noting the touristification that has taken place since we were last here. Main Street is now looking pretty cute and up market but the "behind" streets are still pretty basic and unpaved.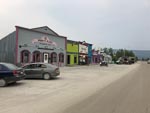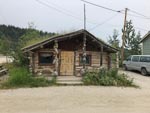 Todays route was to travel to Tok, Alaska via the Top of the World Highway but before that journey could begin I found myself on the banks of the Yukon River waiting for a ferry and observing a paddle steamer taking some tourists on a joy ride. It was interesting to watch the ferry cross the fast flowing river and creep up on the makeshift ferry dock. As you may be able to see from the photos the dock is really just a pile of gravel and there is a bulldozer standing by to make running repairs. The ferry is not very large and I only just squeezed on as the last "vehicle".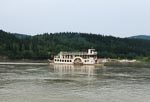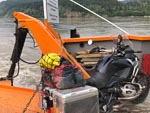 I tried desperately to capture a good image of the Top of the World Highway, it is quite a spectacular road. As its name might suggest it runs like a contour line along the ridge of a very long series of rounded mountains and had the day been sunny and the skies clear it would have provided spectacular vistas and photos.
After about 65 miles the road crosses the border into Alaska and for a short period the road became high quality black top. But that eventually gave out with a twisting gravel descent and a series of river valleys leading to the town of Chicken.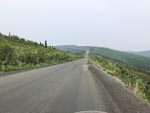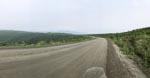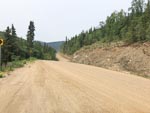 Chicken is an old mining town that is now mining the tourist trade. It seemed like a good place for a coffee break and while I was enjoying my coffee a large European adventure truck based on a Mercedes Zetros pulled in to the parking lot. To my surprise it had Polish plates not German.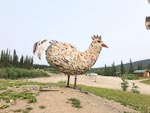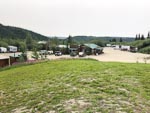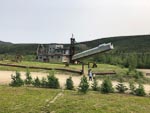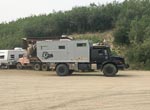 From Chicken a poor quality generally sealed road of about 100 miles connects to the Alaskan Highway just before the town of Tok, which is where I planned to spend the night.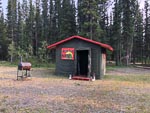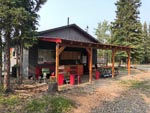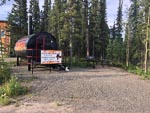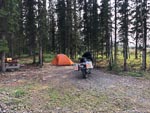 I chose a place called the Alaska Stove Campground in Tok as it advertised itself as the cheapest. It was a somewhat odd campground with a variety of sleeping options. In addition to the usual RV hookups and tent sites one could choose to sleep in an arctic tent or even in a larger than life alaskan stove. I chose the tent site option.