I thought today would be an easy 200 mile ride into Fairbanks. It started out warm though a bit windy and initially I spent time stopping to get some photos of The Alaskan Range. But as the day progressed the wind picked up and by late morning a howling wind (mostly a cross wind that demanded careful attention while riding), lots of dust turned the ride into a survival event.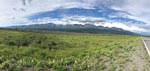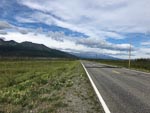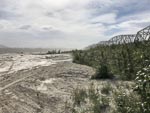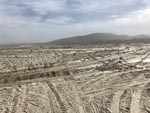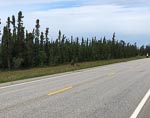 I saw two moose today (or should I say three). The first which I got some very poor photos of was a mother with calf. I have pretty much been convinced that iphone photography is not for me. Had I been carrying a better camera with some optical zoom capacity the photos of moose and calf would/may have been much better.
Nina had booked me into a B and B in Fairbanks a quaint little place called the Rose Marie. It provided me with the smallest room I have ever experienced. But at $70 per night it is by Fairbanks standards an absolute bargain.