To get started on the Dalton Highway one has to drive (or in my case ride) about 80 miles along the Elliot Highway north from Fairbanks. The Elliot is reasonable quality paved country road so that 80 miles is no big deal, just a bit tedious, because one is keen to "get started" on the great adventure to Deadhorse.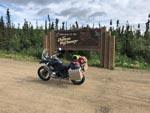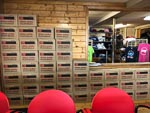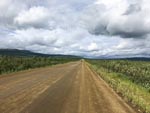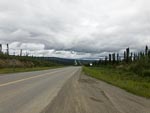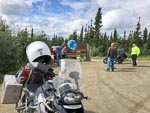 For me the first few miles on the Dalton involved assessing the performance of my new tires on the those first few miles of dry gravel road and observing the difference between the Dalton and the Dempster. The Dalton, even at the start is wider and a more "industrial" style of road and even in these early stages has long sections of pavement.
The first big milestone of the day was the crossing of the Yukon River and its associated Yukon Camp, a hotel, a place to eat and a fuel stop. I took the opportunity to get lunch and while waiting and eating noticed that the place seems to consume a very large quantity of noodles and that the supplies are stored right in the dining area.
About 60 miles north of Yukon Camp the route crosses the Arctic Circle which is marked with a rest area and the iconic sign with the blue circle. I did not get a very good photo of the monument as there was quite a crowd standing in and around that sign. I hoped that I would get a better photo on the return journey.
My destination for the day was Coldfoot another one of those places with accommodation, food and gas. It is a bit over halfway between Fairbanks and Deadhorse and a common overnighting place for truckers and travelers. It started to rain heavily about 10 miles before I got to Coldfoot so I was thankful that there were vacant rooms. Very basic and $219 per night.