Last night at dinner I met a German guy who had flown in to Deadhorse with a bicycle in an airline box ready to start a bicycle expedition to Panama. I say ready but that is a qualified term as he did not have any food and planned on buying supplies in Deadhorse. The hotel staff did not quite laugh at him but close. I waved him on his way this morning as he was up and ready to start riding much earlier than I was ready to depart. Before getting underway I needed to get fuel and I wanted to have a look around the town. This is another one of those take a note of where you are and what you are seeing as you will probably never be back here again. I noticed a number of motorcycles around the town and took a few photos as reminders, as well as bought some "stickers" for the bike at the General Store. Then it was hit the road time.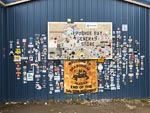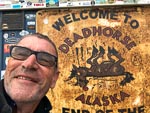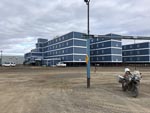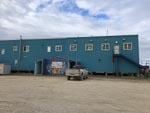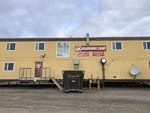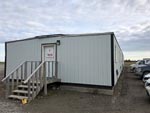 Those road works marbles did not seem quite as bad this morning, maybe a nights rest helped me.
I tried to adopt a much more patient approach today. Think of the day in 24 mile increments (10% of the total journey) rather than contemplating the entire 240 miles as a single stretch, and take a break every hour so as to not tire so quickly. Seems like it worked.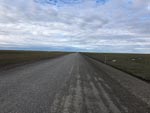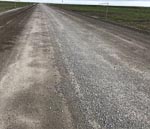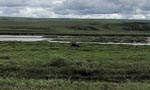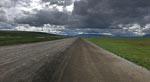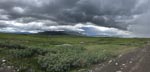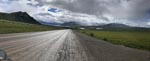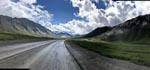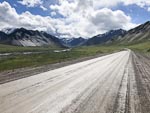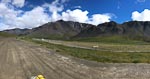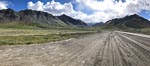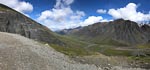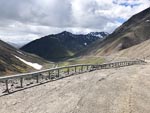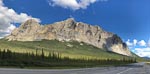 Crossing the tundra towards the Brooks Range I passed through a number of rain squalls but even so the road generally looked dryer than yesterday. I guessed it had not rained over night.
There was a little more iphone photography frustration today. The animal in the 3rd photo in the second group is a Muskox but you could not tell that from the photo.
By the time I got to Atigun Pass the sky was mostly blue, and the road had dried considerably from yesterday, and the crossing of the pass was not only easy but a pleasure. Riding a motorcycle is a lot easier when one can see and the wheels have traction.
Even the parking lot at Coldfoot was much dryer when I got there.