It was wet and cold pulling out of Haines Junction this morning and so the miles into Whitehorse were not about photos and sightseeing. In Whitehorse I stopped for the mandatory coffee at Starbucks, bought a few groceries and then was on my way towards Teslin.
Just outside Whitehorse I had the wildlife highpoint of the trip, though it was also another photographic low point. I noticed a couple of guys standing near their car on the side of the road with cameras out. As I went past them I got a quite good view of a huge bear, light brown to ginger in color, with a notable hump on the front shoulders. But of course by the time I stopped, removed gloves, got my iphone out there was no chance of capturing the creature on digital celluloid. I am positive it was a Grizzly; though readers are welcome to correct me.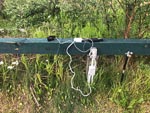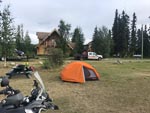 While Teslin is a very small town it is also a very busy place with vehicles stopping in all day and night.
The gas station and RV park had a reasonable tent area so I decided to stay the night and partake of a buffalo burger at the RV parks restaurant.
Notice that the tent site even had power for charging those essential electronic gadgets.