It was raining this morning so packing up my gear was a bit of a chore, trying to do everything inside the tent so as not to get all my gear wet. The rain also meant that this mornings ride was about "getting there" rather than taking in my surroundings. However after a couple of hours the rain intervals lessened and I became a little more observant of my surroundings.
One of my rest stops summed up a bit of the magic of traveling this part of the world. I pulled off the highway into a gravel track to discover a hidden little camping spot with a beautiful view of a river.
A lot later I pulled into Nugget City (a 3 building affair just before the junction with the Cassiar Highway) and got the picture below of all the motorcycles. Thats another aspect of this part of the world, lots of travelers.
In Watson Lake I parked at the tourist info center along with what seemed like 10,000 of my closest friends and could not help but try again to capture a good picture of the forest of signs.
After Watson Lake the real highlight of the day started. In the course of the next 150 miles I saw 7 black bears by the roadside and 5 different groups of bison.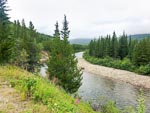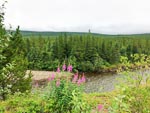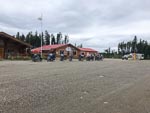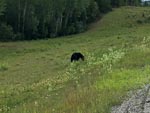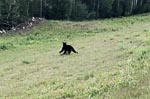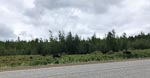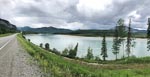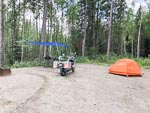 At Laird Hot Springs I discovered that the Provincial Campground was full as was the nearby Laird Hot Spring Lodge. A quick retrace back along my route found me with one of only two available tent sites at Mould Creek Campground
As the weather still threatened rain I pulled out some of my old boy scout skills and erected a lean-to over my sites picnic table. Pretty good, hey.