We had some business to take care of so we set off early towards Lolo pass with the goal of getting to Missoula, a campground, wifi and enough time to "take care of business". The day turned out to be sunny which made the drive up Hwy 12 to Lolo Pass quite picturesque. There were long sections of new pavement which made driving very pleasant. But this was offset by a number of delays due to single lane sections where road crews were at work.
We stopped at the unattended visitor center in Lolo pass but unlike our last visit there were no prairie dogs out playing to entertain us.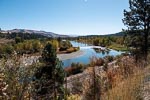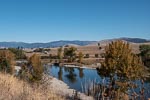 Missoula has an extensive network of cycle and walking tracks so finding a place to exercise proved to be no trouble. For her walk Nina chose a section of one trail beside the Bitterroot River just north of the town of Lolo.
We stayed at the KOA in Missoula. Sparcely populated, nice showers and good wifi.