We got off to a good start this morning. The heater, generator and truck all started as they should, and the sun was out providing very good light as we drove east through farm country. Near the town of Driggs we ran into a very dense and extended patch of fog which had largely dissipated by the time we stopped for some exercise on the walking/cycle trail at Victor. Then over Teton Pass to Jackson Hole, Wyoming.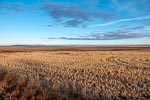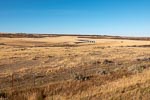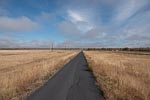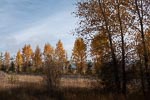 We spent some time in Jackson refreshing our memory of the place. A lot of businesses were closed as early Oct is between the summer and winter tourist seasons but there were still, to our mind, a surpringly large number of "us" in the town. And of course we needed a photo of those famous "antler arches".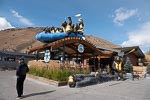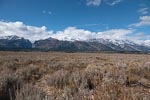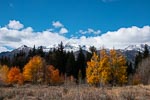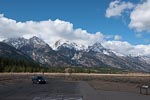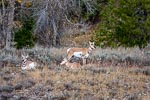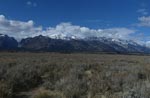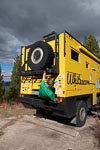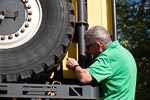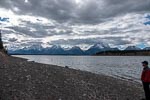 We were delighted that the good weather continued as we traveled north into the Tetons and we got what we hope will be a lot of good photos of the mountains.
We camped for the night at a private campground at the foot of Signal Mountain at the southern end of Jackson Lake. It was one of only two campgrounds in the park still open.
Once in camp I decided to put new batteries in the outside temperature sensors so that our "weather system" would correctly report the outside temperature. Nina decided that the sight of an "old guy" climbing up the side of our truck "like a kid" was worth a picture.