Before getting underway this morning we could not resist a few more photos of our pleasant camping spot. Then it was "onward" with the plan of getting to the Denver area so that we would be within easy driving distance of La Junta for tomorrow. Along the way we made an extended stop at the Wyoming Visitor Center just before the Colorado border. Quite an impressive building and facilities.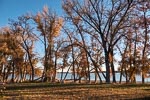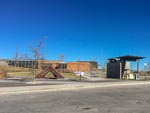 To our surprise St Vrain State Park at Dacono (just north of Denver) was FULL ! and so we had to adjust our plans, add to our days drive and find a KOA on the eastern side of Denver.
We finally made it to Denver East KOA, in the village of Strasburg. Nice enough place with all the expected facilities.