What's this section of the site about?
This is an online journal of our journey to the top of North America, then south through Central America to the bottom of South America (and back again) in a Provan Tiger CX Motorhome or RV.
Whats on this section of our website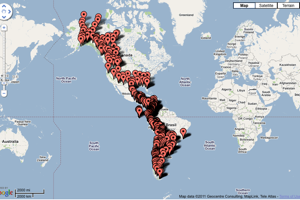 OUR VEHICLE
That's our Provan Tiger CX motorhome. We bought it in Nov 2007 as part of the preparation for this adventure. View all the Vehicle's modifications and preparations.
Check out the rest of our Equipment
THE TRIP - Where the idea came from?
Its a long story; but briefly.
We moved to the US in 1999 for work. At the time we had a general plan to spend a year touring the US sometime after our US assignment was finished, and before we went back to Australia.
Somewhere in those first few years we discovered the website Trek of the Americas that added a "south america" leg to our plan ..... it became obvious that before South America we should head to Alaska so that we would touch both the top and the bottom of the two American continents.