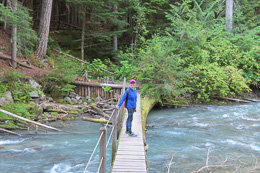 A new adventure
In case the recent announcement of the sale of our beloved GXV/Unimog suggested the end to our travel adventures, this post will reassure readers (and Nina and I) that the travels are not over; at least not yet.
As this post 'goes to press', so to speak, we will be winging our way to Sydney Australia to start a 6 months expedition to the western half of our home country.
It may seem a bit strange, but not withstanding all the places we have been in the world, we have never traveled the western expanse of Australia. This expedition will redress that oversight.
Transportation for this adventure will be a one of the relatively new V8 diesel Toyota Troop Carrier fitted out as a camper. These are very rare vehicles in North America but common in Australia.
We chose to rent a vehicle for this expedition rather than go through the buying and then selling process. More expensive but much more convenient; at least thats the theory. The accuracy of that theory will unfold over the course of the adventure.
The provider of our vehicle is WaExperts.com.au, a Perth based rental provider.
---
What's on this site
A daily Journal, a route map (both actual and proposed) with daily camping spots, and photo galleries.
In addition there will be periodic posts on topics that catch our fancy and articles on topics we think other travelers will find interesting. Also see the Vehicle, Gear and How items on the main menu.
An easy way to stay in touch is to subscribe to our RSS feed.
---