Melacca (Melaka) was a trading center from as early as 1403 when the town was founded by Parameswara (the King of Singapura) and first visited by a Chinese trade envoy. For the next 100 years or so the port of Malacca propspered as a trading hub for Asian trade. The Portuguese arrived in 1511 conquering the city, disrupting the ports central role in Asian trade and thwarting their own ambition. Over the next 100+ years the Dutch tried on a number of occassions to take the port from the Portuguese finally succeeding in Janurary 14th 1641. In 1824 the Dutch ceeded Malacca to the British in exchange for Bencoolen on Samartra.
Today Malacca is a city of approximately 1,000,000 with a mixed economy including petroleum refineries and a large number of medium scale international manufacturing operations. In addition it is a popular tourist destination for both international and local tourists. Because of our short stay, just overnight, we only got to scratch the surface. A walk down Jonkers St, the local China Town, and a stroll along the narrow canal in the morning light.
Today our itinerary was "drive to Kuala Lumpur" and stop at two "interesting" sites along the way.
The first stop was the Putra Mosque in the Putrajaya enclave. Putrajaya was a surprise to us and reflects our lack of research of Malaysia prior to this journey. It is a enclave that was conceived and developed as a Federal Government Administrative Center and contains an array of spectacular buildings that include the Prime Ministers Office, Prime Ministers Residence, the Federal Treasury Building, many other federal departments that we did not recognize and housing accommodation for a large number of federal employees. In addition there is the huge Putra Mosque situated on a man made lake across the water from the Prime Minister's Residence, underlining the fact that Malaysia is an Islamic state.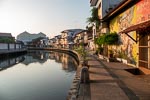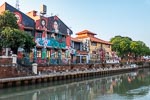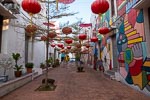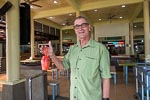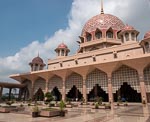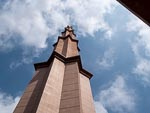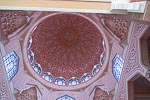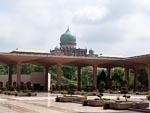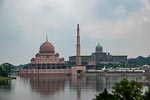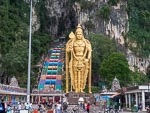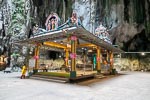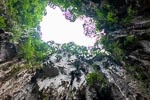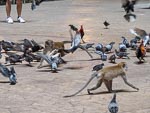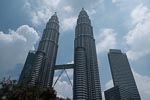 Our second stop, Batu Caves was an equal surprise but a complete change of pace. Situated a bit north of the center of Kuala Lumpur is a large limestone outcropping that is visible from a significant distance privided one can get a bit of elevation to see it over the myriad of city skyscrappers.
On arriving in the parking lot of the caves it quickly became apparent that this was not to be a speleological experience as we were greeted by the 42 meter high, gold painted, statue of the Hindu God Murugan, together with an assortment of Hindu temple buildings with smaller statues of Gods we were not able to name. A prominent staircase of 272 steps leads up to the main caves entrance and a number of very large caverns which are occupied by Hindu Shrines, and inhabited by monkeys and pigeons.
Our accommodation for the night was the Mandarin Oriental Hotel which to our delight was almost next door to the Petronas Twin Towers, an iconic Kuala Lumpur landmark.