There is no doubt that today is Mount Robson day, though there were many miles between the start of day and that mountain, many miles of good road and forest (did I say forest!). Before getting to the mountain itself one drops into a valley that the locals call and signpost as Robson Valley, but which is geographically a valley of the Fraser River. In this valley I came upon the small (microscopic ?) town of McBride and stopped in at the old railway station that has been converted to a cafe and art/curio shop. Here I had a lunch of soup and toast. The cook promised me that the soup was 17 bean soup, but I could only identify two variety of beans. Never the less the soup and conversation was pleasant.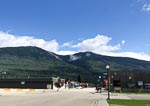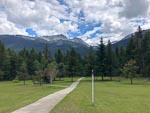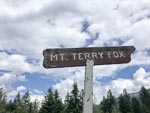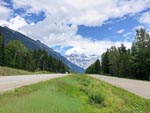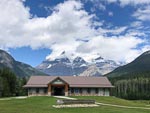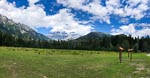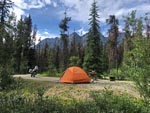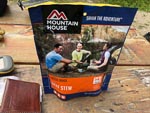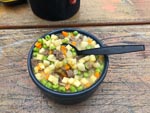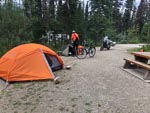 Since the weather was reasonable with only partial cloud I was eventually presented with some good views of Robson which have been recorded above. It really is a spectacular mountain even when half covered with cloud.
I stopped at Lucerne Provincial Park a bit short of Jasper suspecting that all Jasper's accommodation would be full. Even Lucerne filled by early evening and I found myself offering to share my tent site with a German bicyclist.
As a dietary experiment some days back I bought a prepackaged dehydrated hiking meal and tonight was the time to try it out. All these meals seem to be packaged as serves two. Why one would do that is beyond me as one finishes up eating or at least carrying too much. As to the meal; I will not be using these as a mainstay of a traveling diet.