Today I was very much in the mood of "heading for home" which was remiss of me for there was a lot of great scenery along the way and I did not give it the photographic attention it deserved. From Radium this morning I made an early start and followed the Columbia River (and highway 95) north to the town of Golden a major rail head town and a watering hole on the Trans-Canada Highway (or Highway 1 as it is also called). For me it was also breakfast.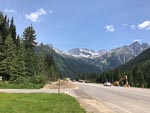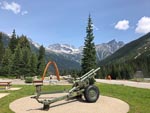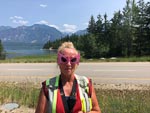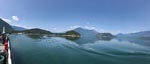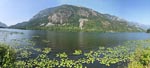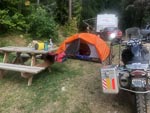 After breakfast it was west along Highway 1 towards Rogers Pass and more spectacular mountain scenery. The cannon in the photograph of Rogers Pass is a memorial to the practice of using canons and artillery shells to precipitate avalanches as a means of controlling snow build up.
At Revelstoke I was pleased to leave Highway 1 and turn south along highways 23 and 6. The Trans-Canada was very busy, lots of trucks, lots of road work and way too many people in a busting hurry. It was not fun riding, more like survival.
By the time I turned south it was getting hot, 90° F and for the first time on this trip I felt it necessary to remove the outer, waterproof, layer of my motorcycle suite. The afternoon's ride south was quite something, very good quality road, long stretches of great "twisties" just made for motorcycles, not much traffic, with almost the entire way following either a lake or a river. There was even a free ferry boat ride at one point. The lady with the decorative sun glasses was the traffic manager for the ferry loading.
At the end of the day I arrived in the town of Castlegar looking for a place to pitch my tent. I had to travel a bit out of town to find a campground and then got the last tent site.
I did not spend much time sight-seeing in Castlegar but it is definitely a place where water sports abound. Castlegar it is situated on the Columbia River, just down stream from Arrow Lake and the "Hugh Keenley Side Dam" (built in 1968 and part of the Columbia Valley Treaty between the USA and Canada).